Aduro P5
---
---
Aduro P5 is the closest thing you can get to a pellet stove with a classical wood stove look. The curved panorama glass gives you a great view of the calm and natural-looking flames, creating a cosy atmosphere in the room. An effective air-wash system prevents soot on the glass, while the brazier collects dust and slag, making the cleaning effortless. The pellet container is placed underneath the combustion chamber for easy and convenient filling of wood pellets, and it can hold approx. 14 kg of pellets.
The stove has a built-in smoke fan, making the stove less dependent on the chimney draft. With an app on your phone or the enclosed remote control, you can easily turn on, turn off and regulate the heat in the stove. In addition, the smart app enables operation of the stove, no matter if you are at home or away. Aduro P5 is easy to install and has options for both top and rear outlet.
For Aduro P5, you can buy a special floor hearth in two parts, of which one part is put in front of the stove and can easily be removed and cleaned on both sides.
Technical

Nominal power:  6,8 kW wood pellets
Operational area:  Wood pellets 3-8 kW)
Heats: 20-140 m2
Energy efficiency:  > 87% wood pellets
SEER: 82%
Energy efficiency index: 122,3
Energy efficiency class: A+
Power consumption: 30 Watt
Chimney draft: According to EN13240 and EN14785. 10-14 Pa with a cold stove.

Flue outlet diameter top/rear: Ø80 mm
Outer dimensions (HxWxD): 120 x 50 x 56 cm
Distance: Floor to centre of rear outlet: 108,2 cm
Distance: Centre of exhaust branch to rear edge of stove: 25 cm
Height exhaust branch above floor: 117,8 cm
Width of wood chamber: 40 cm
Maximum wood length: 39 cm
Weight: 120 kg
Measurements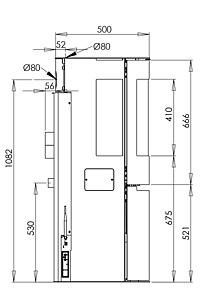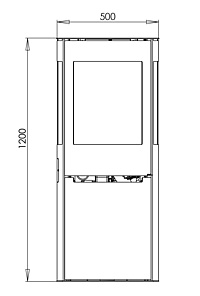 Enquire Now
Please fill in the form below